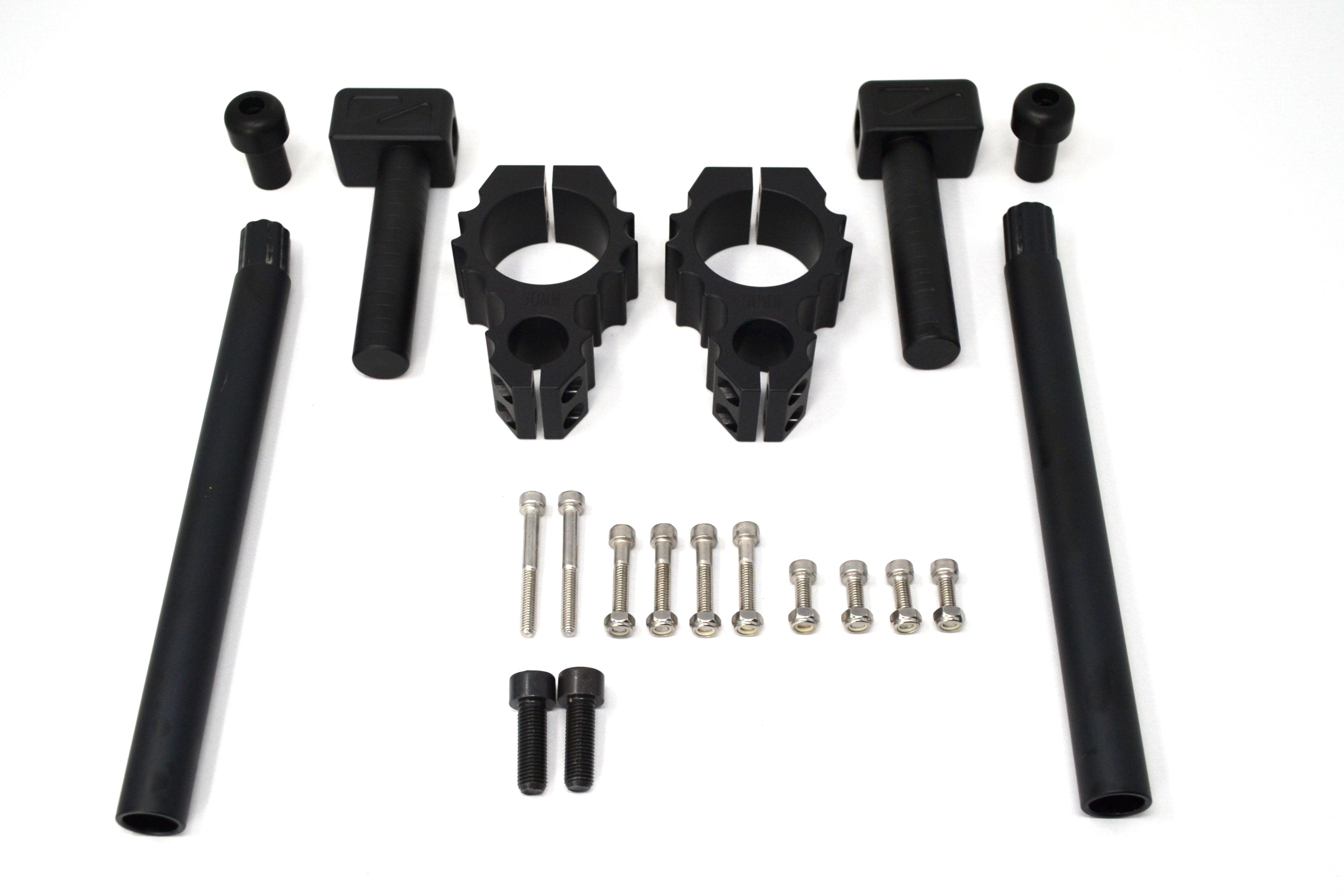 Clip On's Suzuki GSXR-1000 | 2017-2023
Use code "FREE" for free shipping. This offer is only valid for our USA customers. Only one coupon code can be used per order.
Description:
 Our Impaktech Adjustable Clip-On's were designed by motorcycle enthusiasts for motorcycle enthusiasts, it took us 4 years of research and development to engineer the most versatile and best bang for your buck Adjustable Clip-on's.
 The Impaktech Adjustable Clipons is a highly precision CNC machined part made out of 6061 aluminum, 100% made in our state-of-the-art manufacturing facility in Riverside, CA USA.  With over 80,000 units sold, we are the BEST IN THE GAME.
 Available in a Raw or Anodized black finish: please select the size of your forks in the drop-down above, if you are not sure what size clipons you need please select "Not sure what size I need" and enter your year make and model and we will ship you the correct size for your specific bike.
Fully Adjustable
 The Impaktech adjustable Clip-on's give the rider over 100 different adjustability setups to choose from.  This makes our clip-on's. perfect for all riders, whether you stunt ride or daily ride your motorcycle.
 Our Impaktech Adjustable Clip-on's are composed of three individual components, The Fork Clamp, Riser, and Handlebar, all three components are adjustable.
 Fork Clamp: The fork clamp allows the clip-on's to be adjusted to move closer towards the riders (great for shorter riders with short arms) or further away from the rider (great for riders with longer arms)  
Riser: The riser allows the rider the raise the clip-on's up or down, you have 4" inches of adjustability. This is great because if you are a tall rider, you can raise the clip-on's which makes your riding experience much more pleasing, and vice versa if you are a shorter rider, you can raise the clips ons lower to the ground.
Bars:  The 10" inch Bars have 10 points of adjustability; you have the option to go as much as +7 Degrees all the way down to -7 degrees. Basically, what this means is you can lower the bars to have more of a race position or you can have them straight like an adventure bike or raise them more upwards like a BMX bike.  
 Features 
CNC Machined:  6061 Aircraft quality aluminum
Fully Adjustable:  Raise or lower bar 4". Move further away from you or closer to you 4"
Bolt and Nut System:  Ensures that you will never strip the clamps and allow you to full tighten the clamps so they never slip.
Bar adjustability: for ultimate versatility and comfort, our bars can be adjusted to +7, 0 (straight), or -7 Degrees. 
Heavily Reinforced: The main clamp and riser bar is heavily reinforced in order to prevent bending or breaking if the bike goes down.
Hinged Main Clamp: So that they can easily be attached and removed from the bike without removing the triple clamp.
Markings: To allow easy matching of angles and height of bars for both sides.