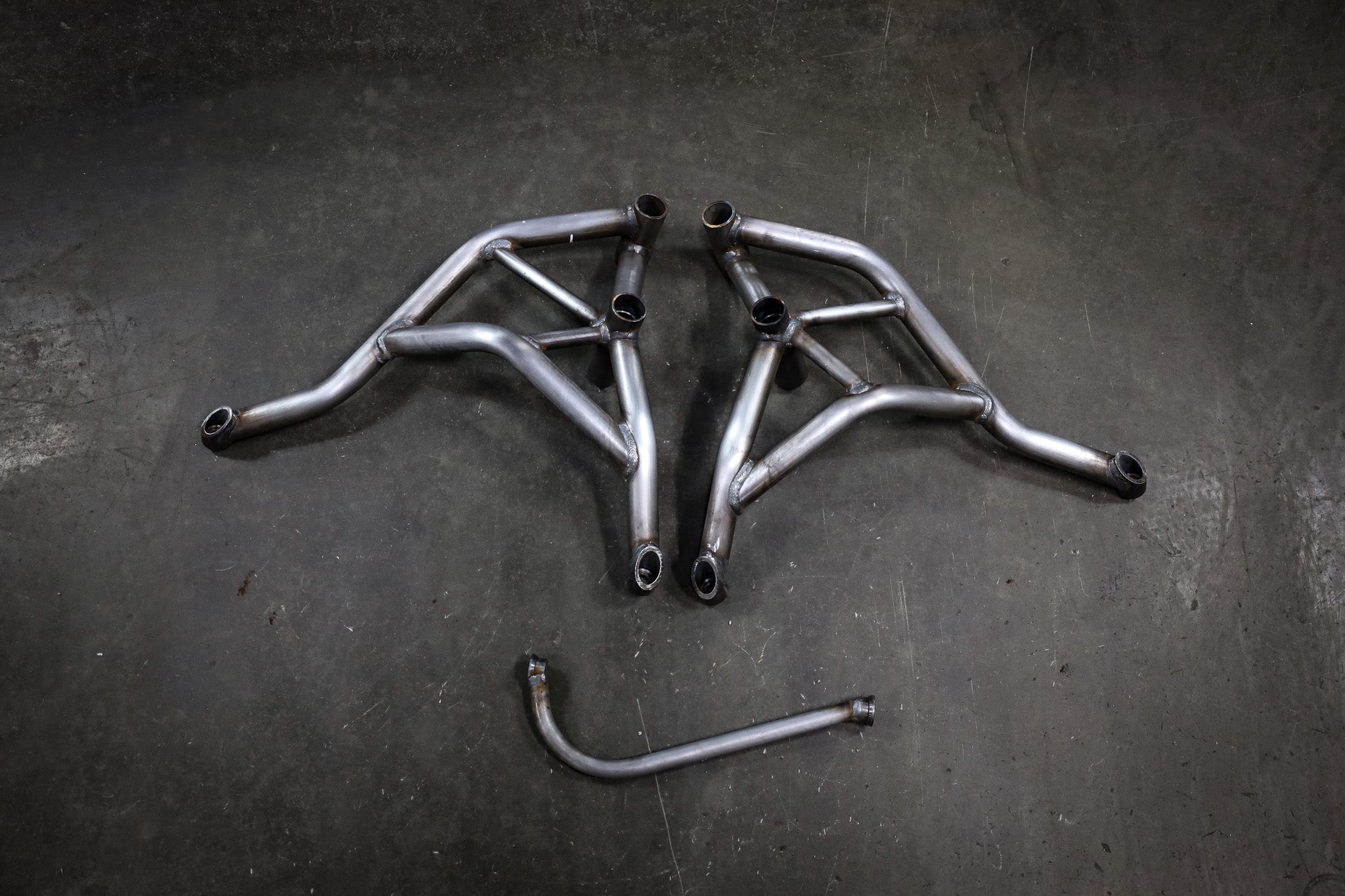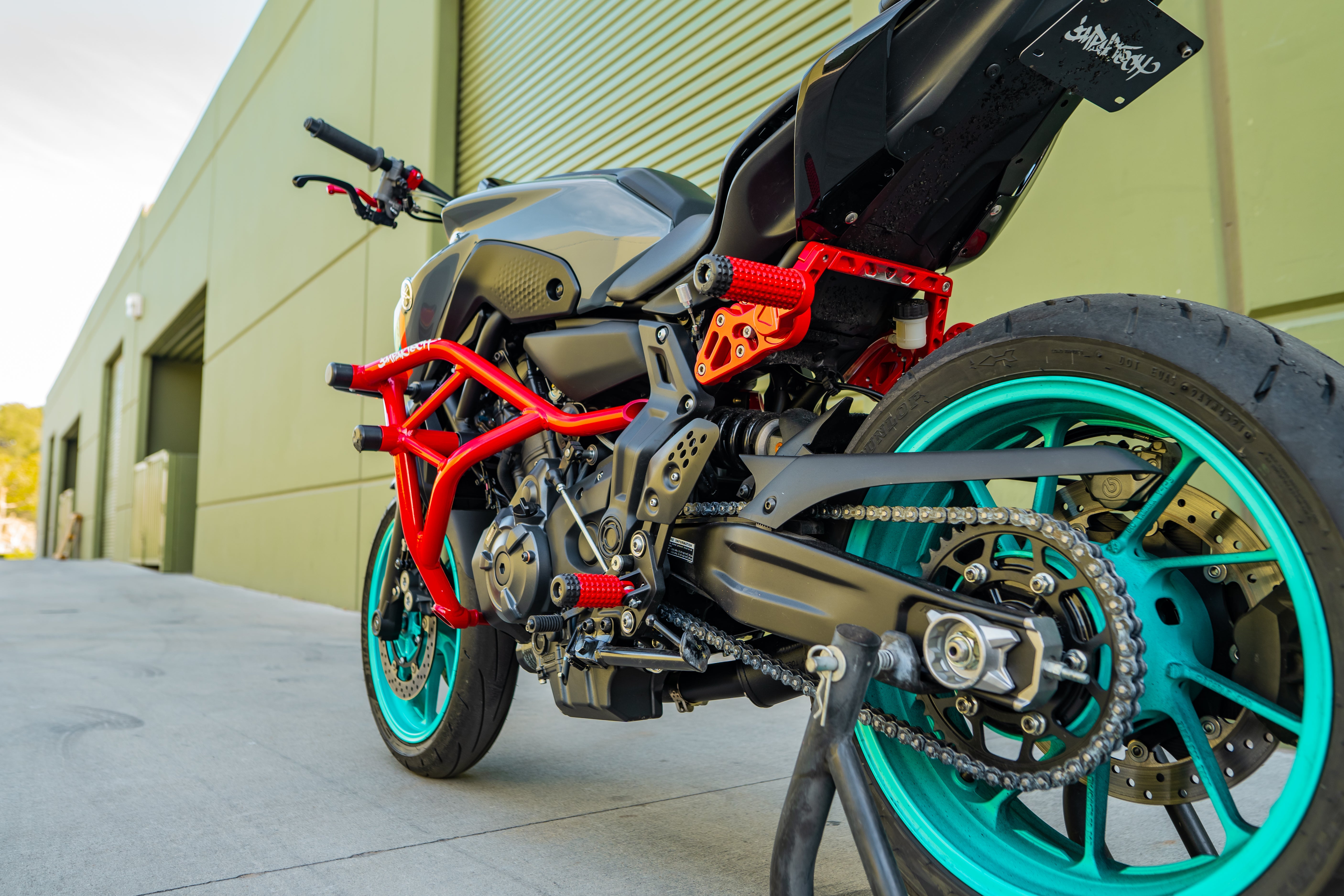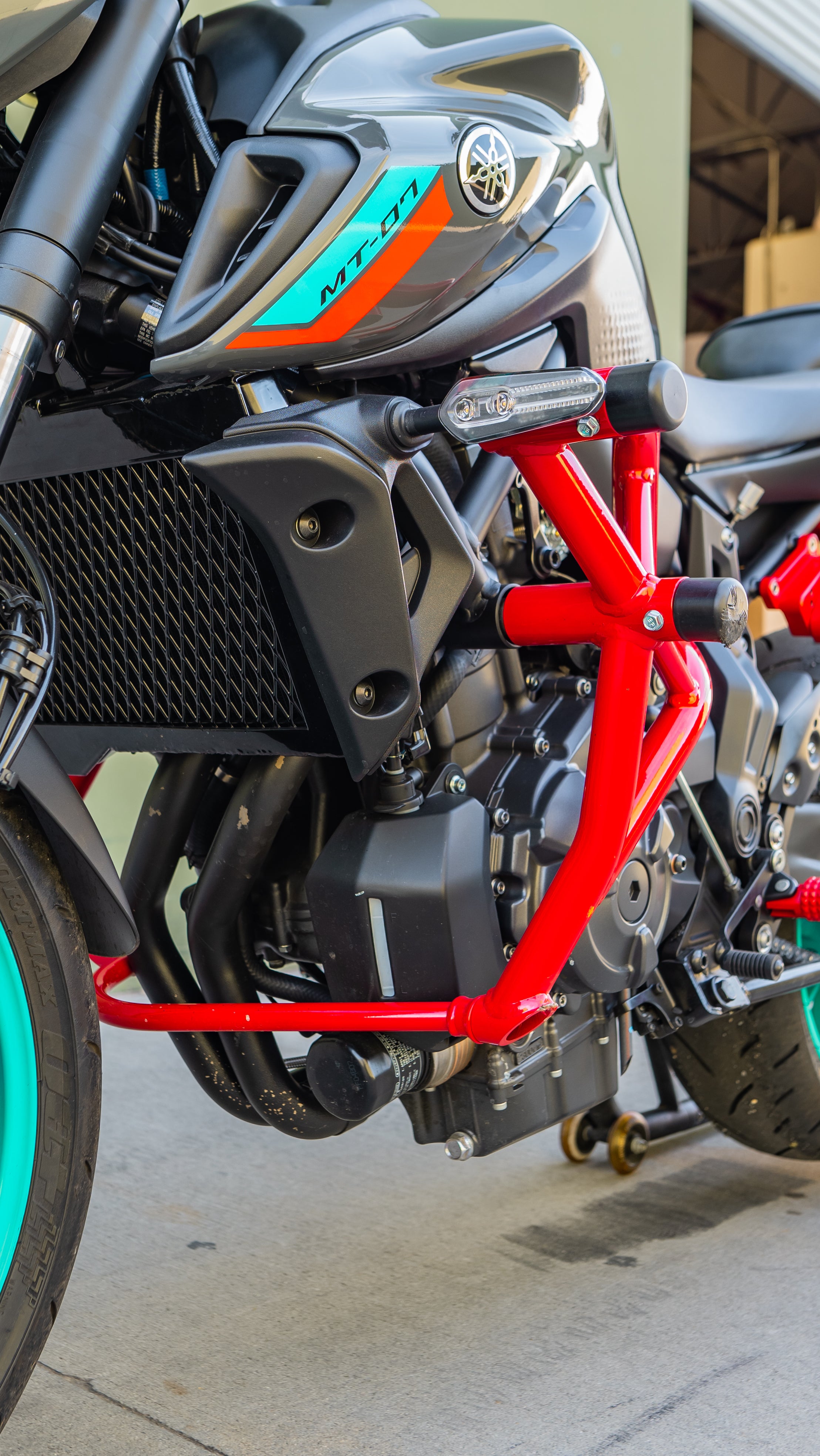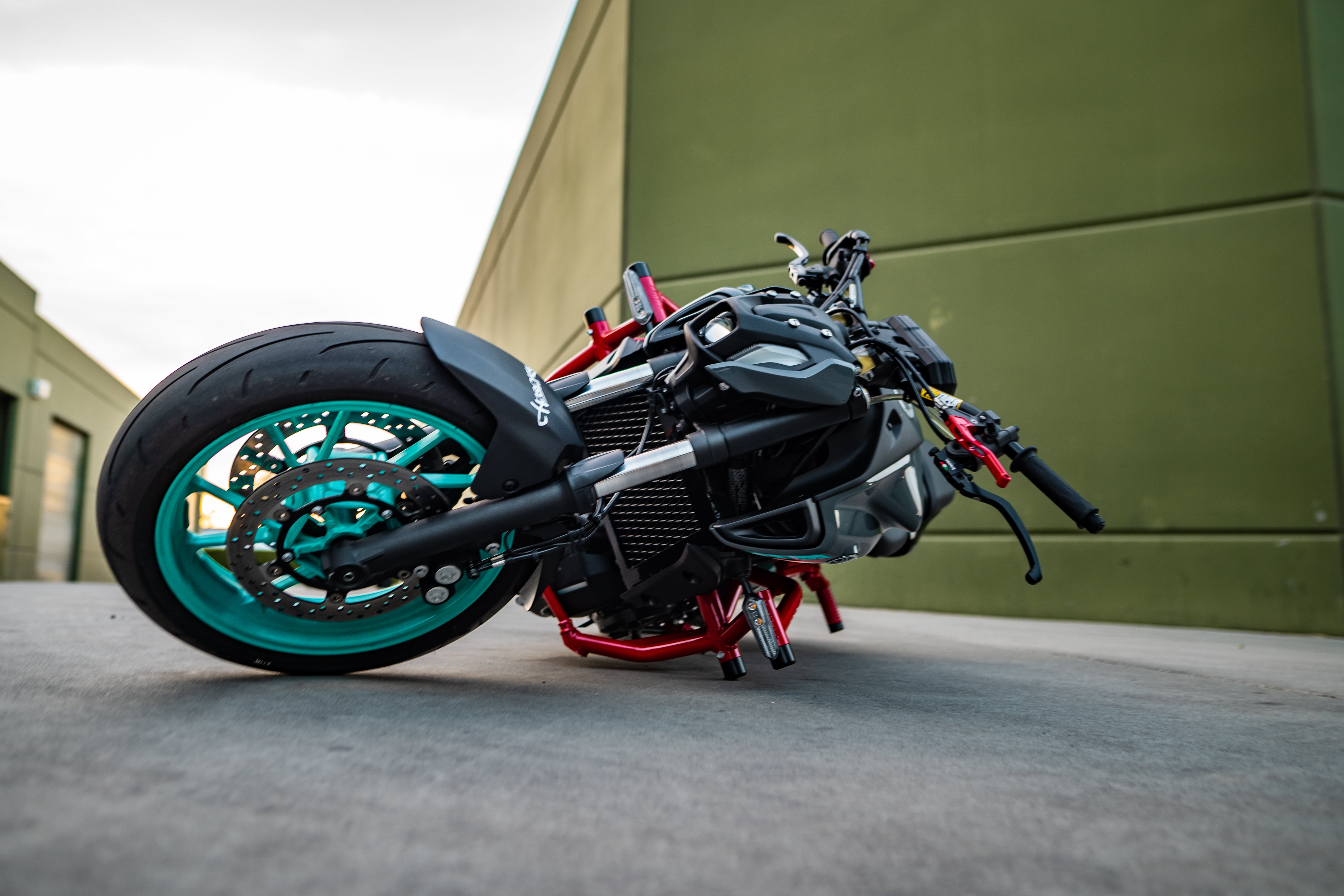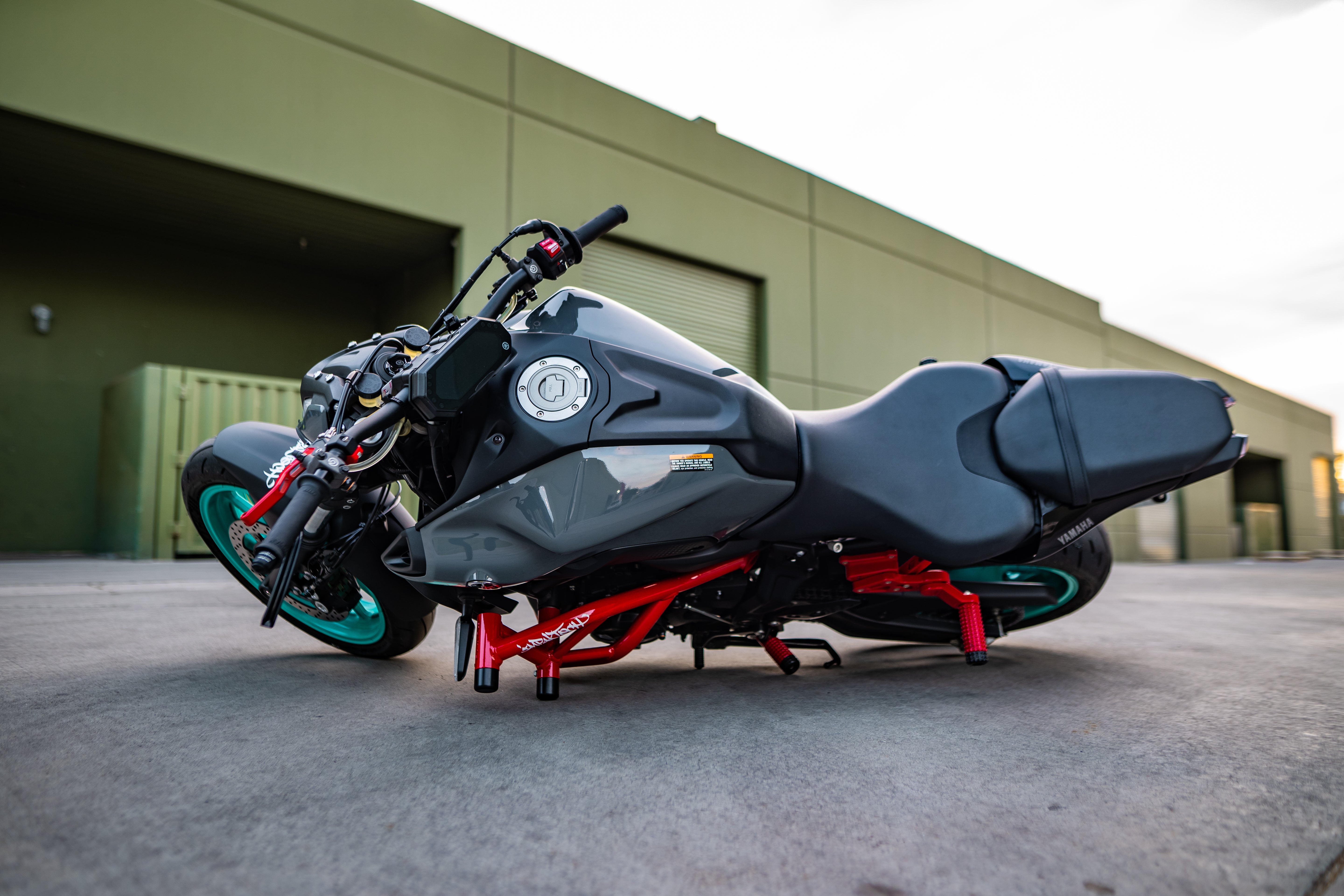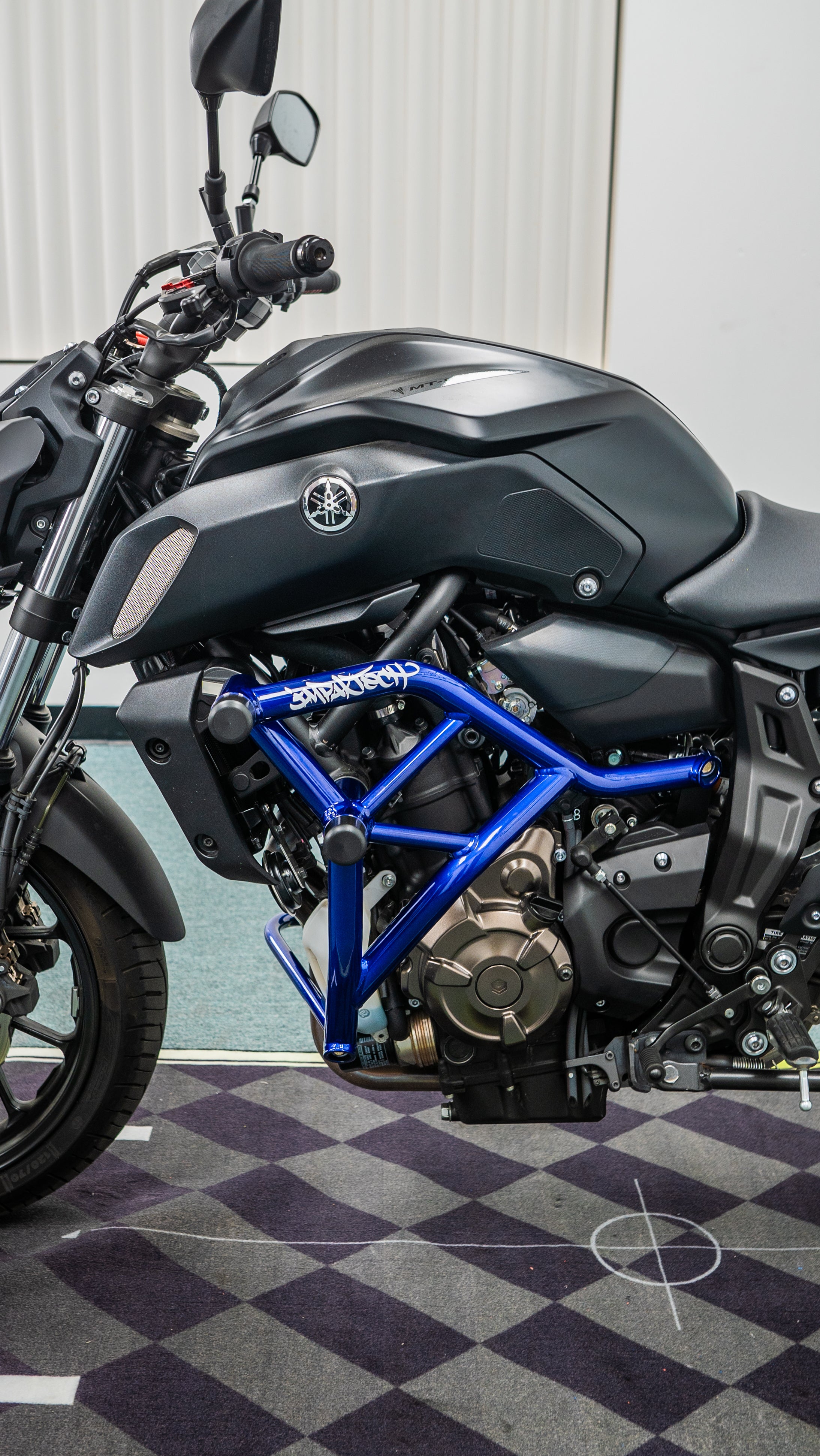 Crash Cage Yamaha MT-07 | 2021-2024
Use code "FREE" for free shipping. This offer is only valid for our USA customers. Only one coupon code can be used per order.
2021-2024 Yamaha MT-07 Impaktech Crash Cage is a 100% Bolt on crash cage that requires zero modifications to your fairings.   We prioritize quality and will never compromise on it. Our Crash Cage comes with a lifetime warranty, so you can be confident that you are making a wise investment.
All Crash Cages include replaceable Delrin slider end caps and all necessary installation hardware for both left and right-side Crash Cage.
After your order is finished and shipped, we will send you an email with the tracking number. Please allow 24-48 hours for the tracking number to update on the UPS website. If you have not received a tracking number, your order has not been shipped yet.
PLEASE READ
Current Wait Times 
Raw = 1-3 weeks (Fastest Option)
Gloss Black  = 2-8 Weeks
Powder Coating Colors= 2-12 Weeks
Do you want your Crash Cage to ship FAST? 
For faster delivery of your Crash Cage, we suggest placing an order for RAW Crash Cage. Raw cages can be manufactured within a few days. You can save time by ordering a raw cage and getting it powder-coated on your own.
What happened to all the other powder Coating Colors Impaktech used to offer? 
To reduce our wait times, we have decided to discontinue over 15 different colors. As a result, we now offer only our eight best-selling colors. We regret to inform you that we are not able to provide any custom powder coating colors currently. If you are interested in a color that is not available on our website, we highly recommend that you order a RAW Crash Cage and have it painted by a professional. 
Where is my Crash Cage made?
All Impaktech Crash Cages are manufactured in our state-of-the-art facility located in Riverside, California, USA. We have been industry leaders since 2008!
Materials: All Crash Cages are made of 1.25" X 0.120" wall DOM tubing from high-grade American steel. They are the strongest and lightest rails in the industry, and they come with a Lifetime Warranty.
CNC Machined: We take pride in our partial CNC manufactured Crash Cage, which is the first of its kind in the business. Each Crash Cage mounting point is CNC machined from a solid steel round bar, making it incredibly strong and durable. Our Crash Cages are built to last the motorcycle's lifetime, and we guarantee that there will be no broken welds at critical spots.
Hardware: All the required grade 8 hardware is provided for the installation.
Replacement Sliders:  Our sliders are made of Delrin and designed to handle road impact with exceptional durability using CNC machining technology.
Protection: Our crash cages are the result of extensive research and development to ensure that your bike's frame, motor, tank, fairings, and handlebars are protected in case of a drop. We highly recommend adding our Impaktech Subcage for ultimate protection. It's always a good idea to have a crash cage and subcage for your bike's safety.
Kindly note that all sales made on our website are final. We do not accept any returns or exchanges on our products, and there are no exceptions to this policy. However, in the event that you made an error while placing your order, please get in touch with us at Impaktechusa@gmail.com. We will do our best to assist you with resolving the issue. It is important to note that when you proceed to check out, you are agreeing to these terms. 
Note
Our lower crossbar is specifically designed to work flawlessly with the OEM header. However, it may also work with most aftermarket headers, but we cannot guarantee fitment with all of them.
Please note that our Cross Bar is compatible with all after-market slip-on exhaust systems, which means you can install them without any issues. 
Additionally, it's worth mentioning that our Race Rails don't require a crossbar, making them a perfect fit for any exhaust system.